An application has been submitted to the City of Toronto to redevelop the Holiday Inn Hotel at Dufferin and Wilson! The site, located at 3450 Dufferin Street, is located across from the Yorkdale Mall and sits on roughly 20,500 square meters of land. On it sits the Holiday Inn Hotel, but if all goes as planned – it will soon be home to 3 condos towers and a new neighbouhood park!

What Do They Want to Build at 3450 Dufferin St?
The proposal is calling for a mixed-use development that will include: 3 towers (with heights of 37, 33, and 29 storeys), townhouse units, a new hotel, a restaurant and a 1800 sq.m of public parks!
Once complete, the site will be home to 1044 residential suites! Layouts will include studios, 1 bedroom, 1 bedroom + den, 2 bedroom, 3 bedroom and townhouse units at the base of the buildings. According to the application, the breakdown of units is as follow:
Building A will contain 257 residential units with 214 being 1 bedroom plus den units and 43 being 2 bedroom units. This building will also contain 255 hotel rooms. Guests and residents will have separate amenity spaces.
Building B will contain 352 residential units with 104 1 bedroom units, 183 1 bedroom + den units, 56 2 bedroom units, 6 3 bedroom units and 3 townhouse units.
Building C will contain 353 residential units with 27 studio units, 82 1 bedroom units, 108 1 bedroom plus den units, 98 2 bedroom units, 23 3 bedroom units and 15 townhouse units.
Building D will contain 82 residential units with 4 studio units, 24 1 bedroom units, 28 1 bedroom plus den units, 12 two bedroom units, 8 3 bedroom units and 6 townhouse units. Building B and D will be connected.
This proposal was just for the Holiday Inn site – the Honda Dealership to the south is not part of the planned development.
Please keep in mind that this is just an application, and that these unit distributions can change! Below is a sitemap where the proposed buildings would be positioned along with some elevations from various directions!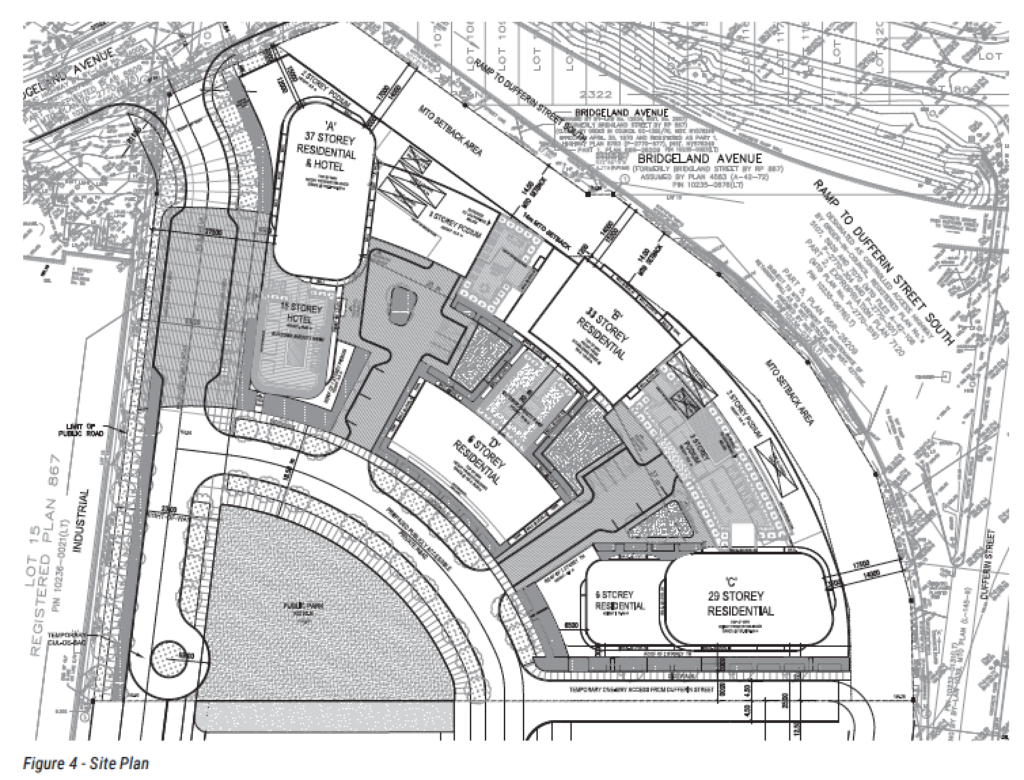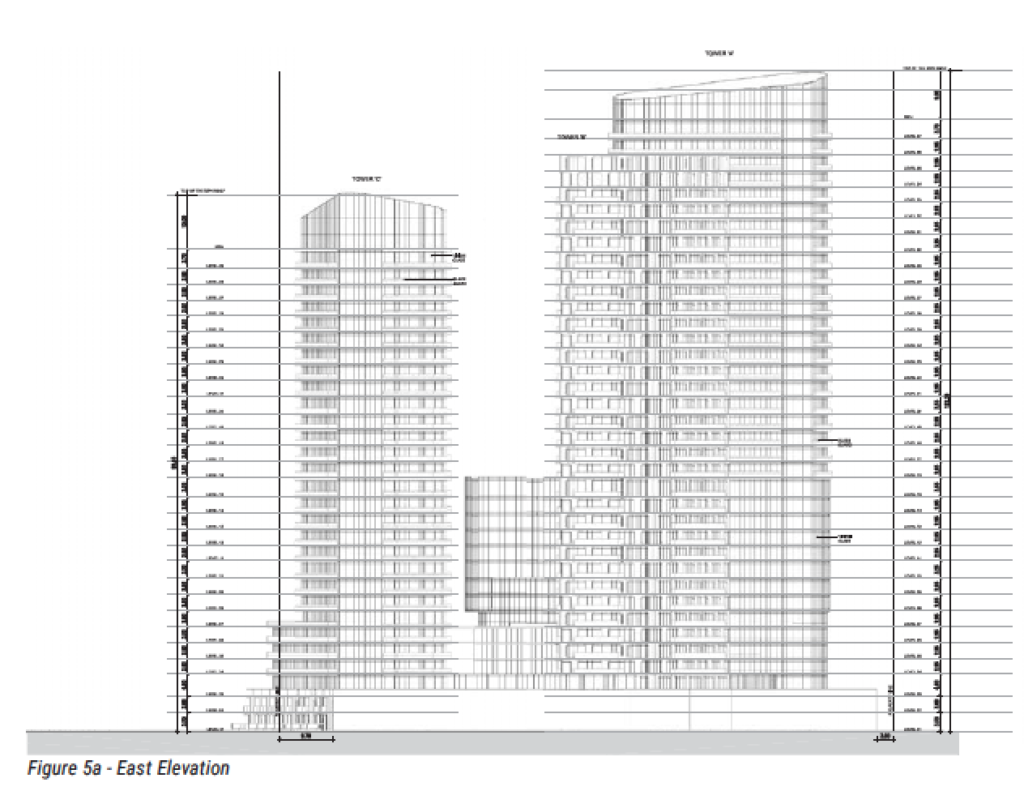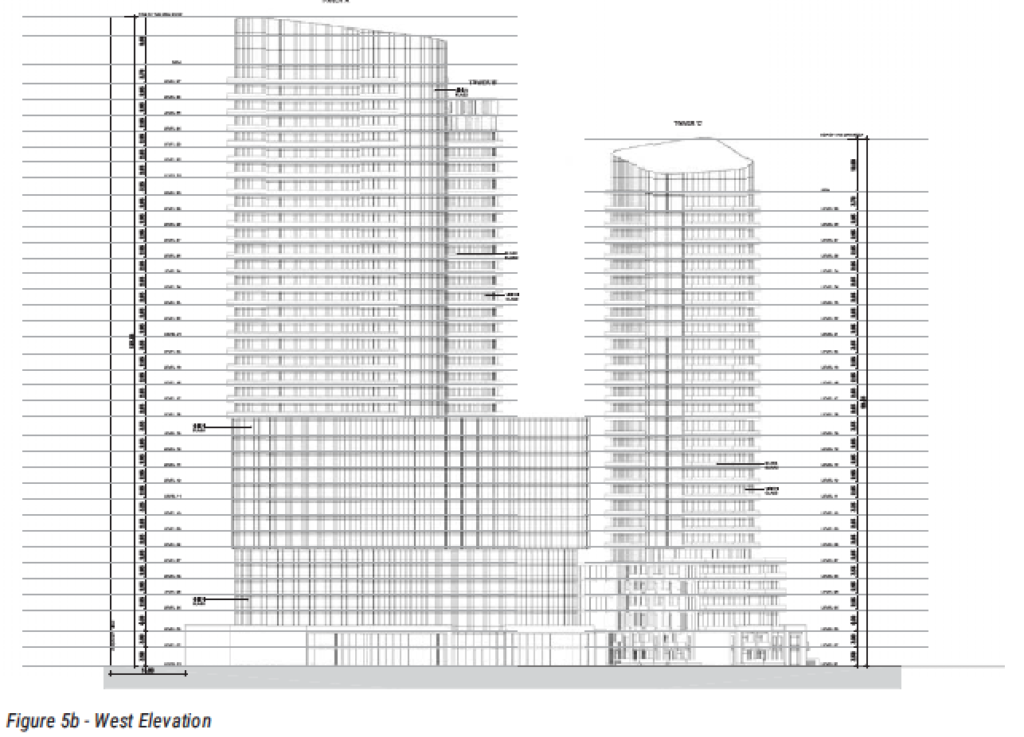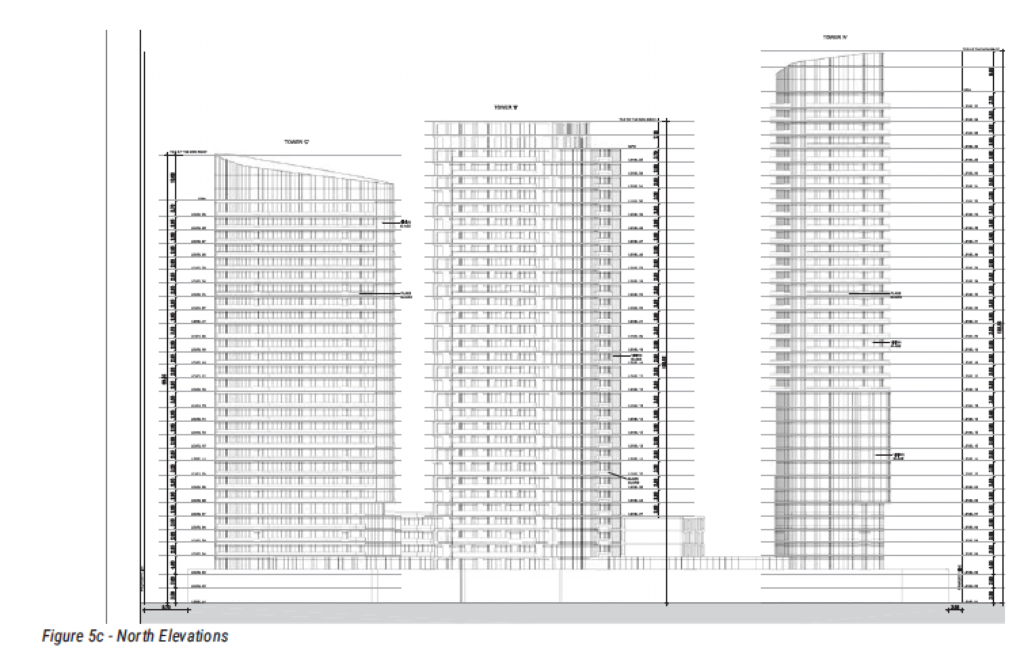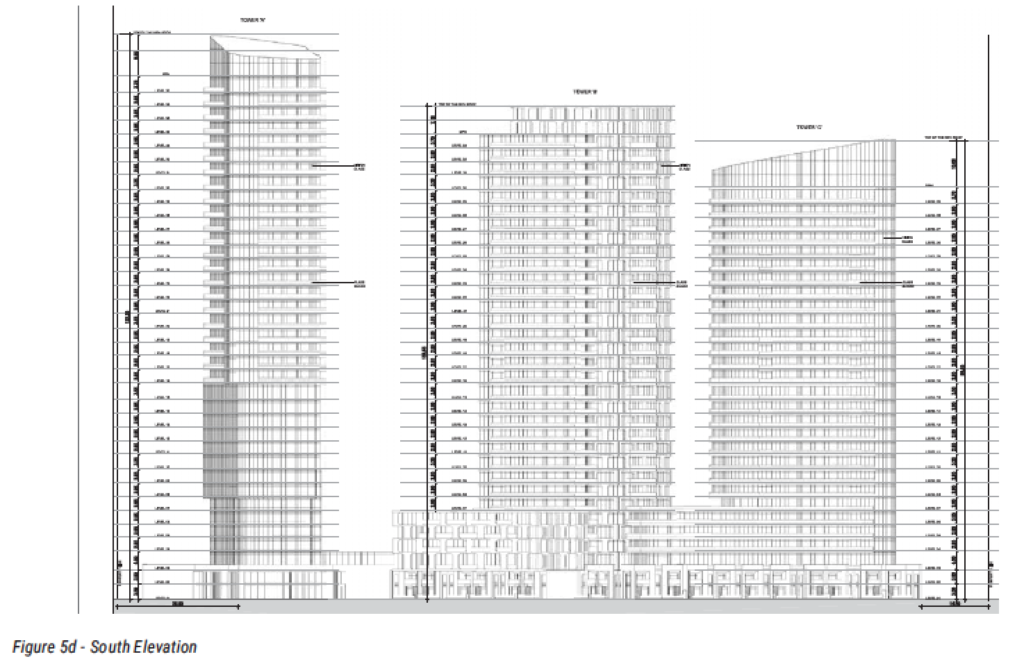 My Thoughts on the Proposal
The Holiday Inn at Dufferin and Wilson has a special place in my heart – when we were kids, my parents used to rent a hotel there every year for New Years Eve – but things change, and the city is growing. I think the timing of this development is perfect and a welcomed addition to the Dufferin and Lawrence neighbourhod. The west side of Dufferin has much deeper lots that the east, which allow for projects like this to be possible. With Treviso at the south end of the strip, and this project potentially to the north – it'll form a gateway of sorts for future developments along Dufferin… and the neighbourhood gets a new public part in the process.
I'll be updating the blog with information as more is officially released!