Finding a storage bed in Toronto is no easy task, as I recently learned! My one bedroom condo, measures in an about 575 sq.ft. with most of the space in the open concept living area. The bedroom has an efficient square layout, and a decent closet… but with the amount of tee's, ties and trackpants I own -there still wasn't enough storage!
It took about three months before I found the perfect storage bed solution… and in an effort to help you on your search, I've put together a little guide that outlines the path I took before finding the right storage bed for my condo!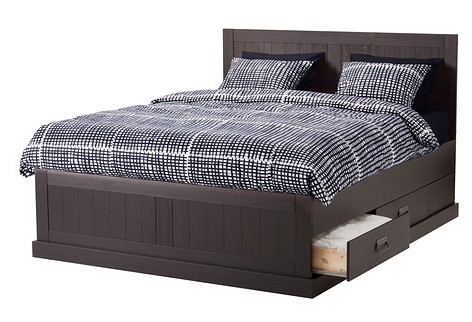 When you're trying to make every dollar count, there's no better place to start than Ikea. Both online and in store offered a ton of options, colours and styles all for under $500. They had daybeds with two drawers, pull-up beds with storage and traditional styles with headboards. Out of all the places I visited, Ikea had by far the largest selection and the lowest prices… BUT at a cheap price, comes lesser quality. After trying countless beds and reading tons of reviews – the most common complaint was of the finish peeling off and looking worn out relatively fast. In the end, I decided to pass on Ikea and up the budget for a better built bed!
(sidenote: If I was looking for a short-term solution of only a few years, I think ikea would have totally won, as they definitely had the most affordable options)
Cavana Storage Bed from Modani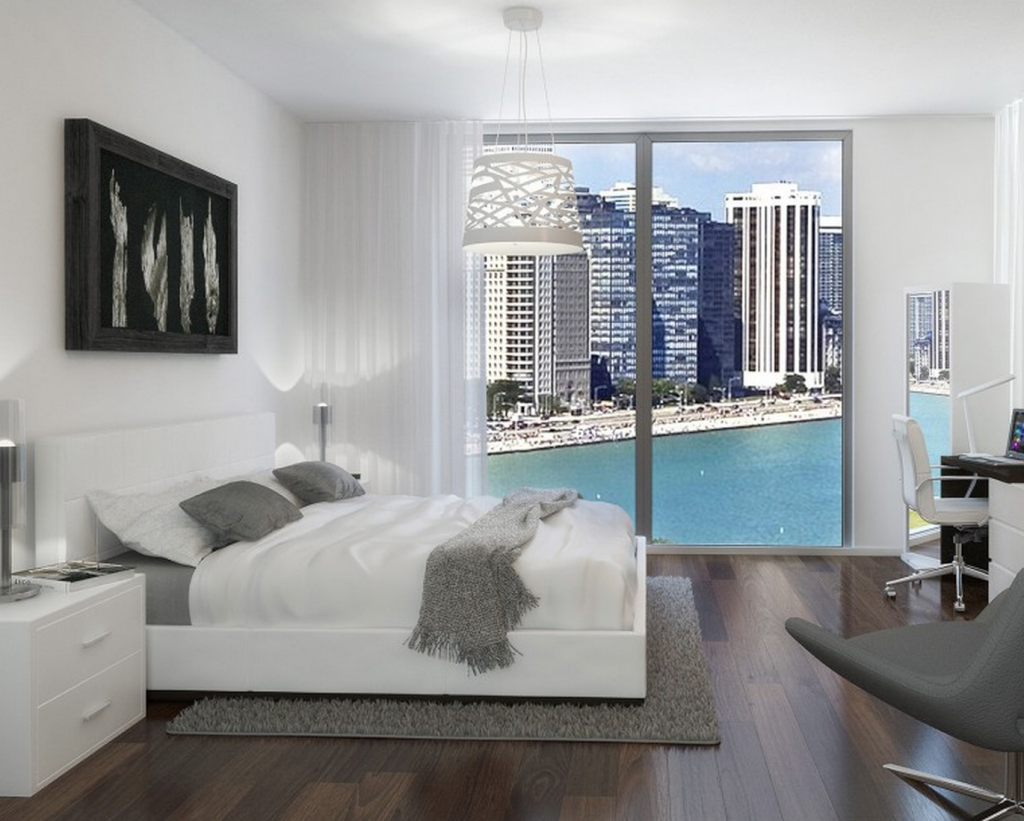 With locations like Miami, LA and NYC… Toronto is the perfect fit for a modern furniture store like Modani. I ventured into their mid-town location (1400 Castlefield Avenue Toronto, Canada M6B 4N4) to check out their selection. They had several displays of fully decked out bedroom layouts that would have been so perfect for my space. BUT I was on a mission, and my mission was to find a storage bed… that's when I discovered the Cavana Storage Bed.
Described online as: You can have style AND function despite having a small space. Designed to add storage, the Cavana Storage Modern Bed White uses a hydraulic system to lift up the mattress to reveal additional storage space for your home. Tuck away your personal mementos, extra blankets and more with this modern bed. The headboard is cushioned to provide the ultimate in comfort. Inspired by French Design, the headboard is then sealed with a fine leatherette.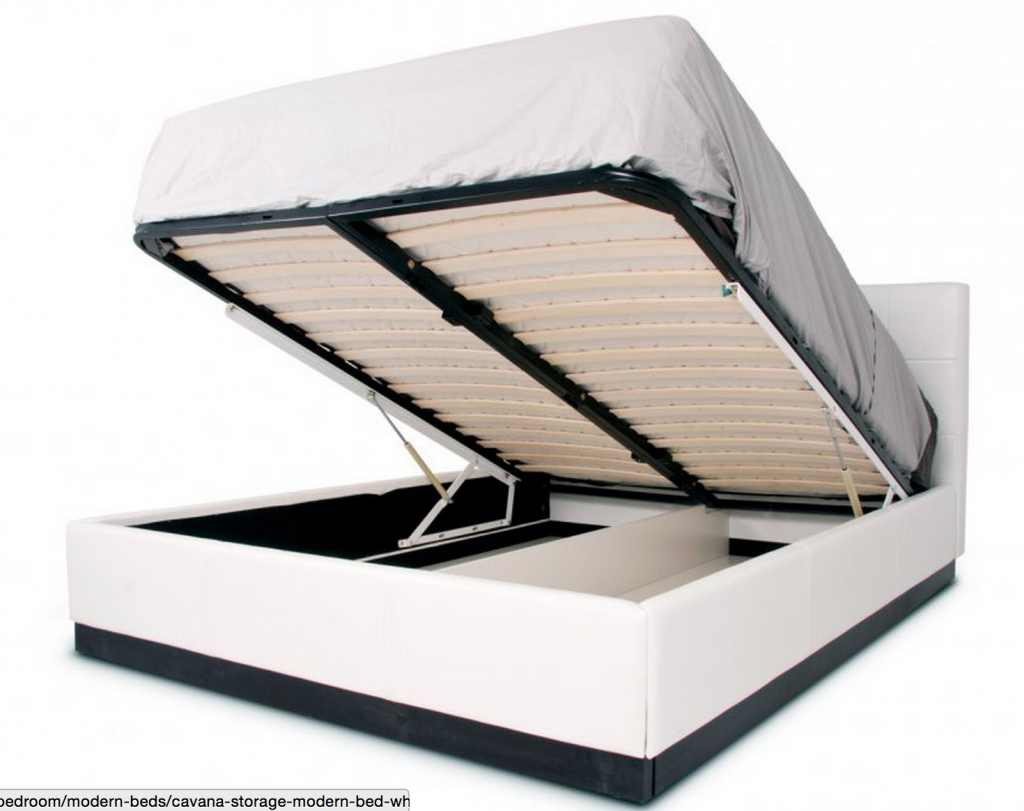 Double the price of the Ikea Storage beds, the Cavana came it at $999 and was available in black or white. As beautiful and modern as the bed looks, my issue was with its design. For those that aren't keen on making their beds, this solution could be a perfect fit… but since I'm a stickler for making mine every morning – having to lift the mattress up to dig for a pair of socks isn't the most ideal for my set-up, so I passed on the bed and continued the search!
Work had taken me down to the East side of King Street… in between showings, I visited UpCountry (310 King St E Toronto, M5A 1K6) to see their selection! It was here that I found the Evoke Storage bed! With 6 large drawers, a sleek dark wood frame and pastel blusish/green headboard – it caught my attention. The pricest of them all, coming in at $1,895 it had almost everything I was looking for!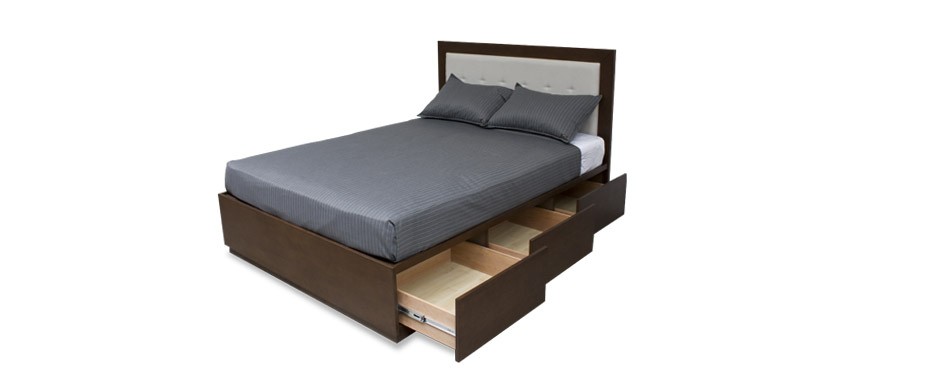 Unfortunately, the height of drawers resulted in a higher placement for the mattress and in the end the colour and design just didn't work in my space.
A few doors over at Eq3 (222 King Street East, Toronto, ON M5A 1J7) is where my next stop took me. After a few laps around the store, I was ready to leave… UNTIL I SAW IT! The most perfect storage bed I've ever laid eyes on!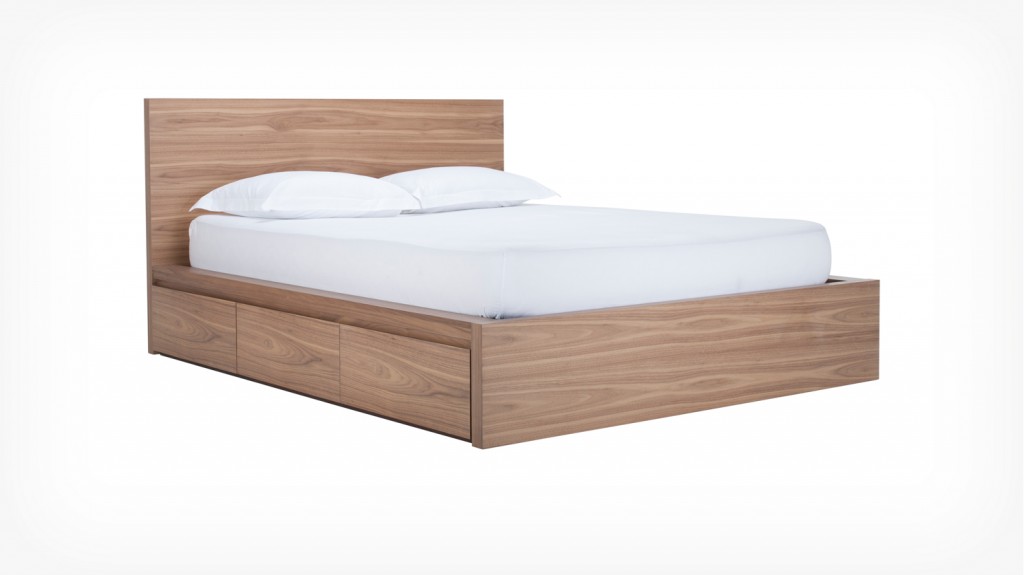 Available in two colours, Onyx and Walnut – it was everything I was looking for. The bed can be purchased with multiple add-ons. Starting at $999 for the queen, it comes with no storage. For an additional $800, you can add 2 set of 3 side drawers giving you a total of 6 extra drawers. I choose to go with only one set so the other side could be kept open to store large blankets and bedding. The bed came in about 3 weeks and was fairly easy to put together. The majority of the bed is pre manufactured, so only a few connections had to be made. Night stands could also be added ($200/side) so complete the set.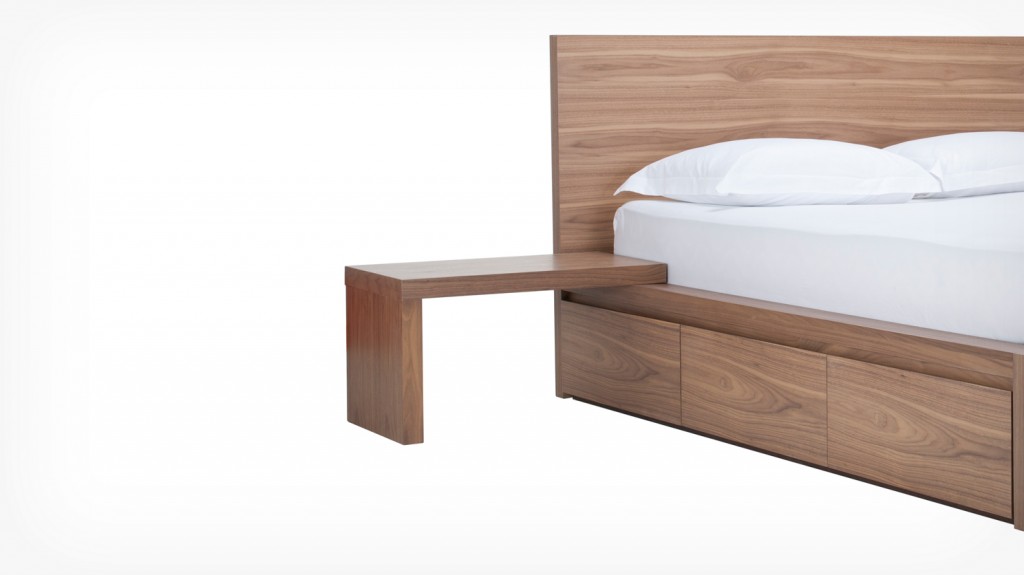 The above are just a few of the many places I visited while searching for the perfect bed, I'd also suggest checking out: ALX Home (formerly PositiveSpaceInteriors.com), BLVD Interiors, and InStyle Home as they too provided options for storage beds in Toronto!