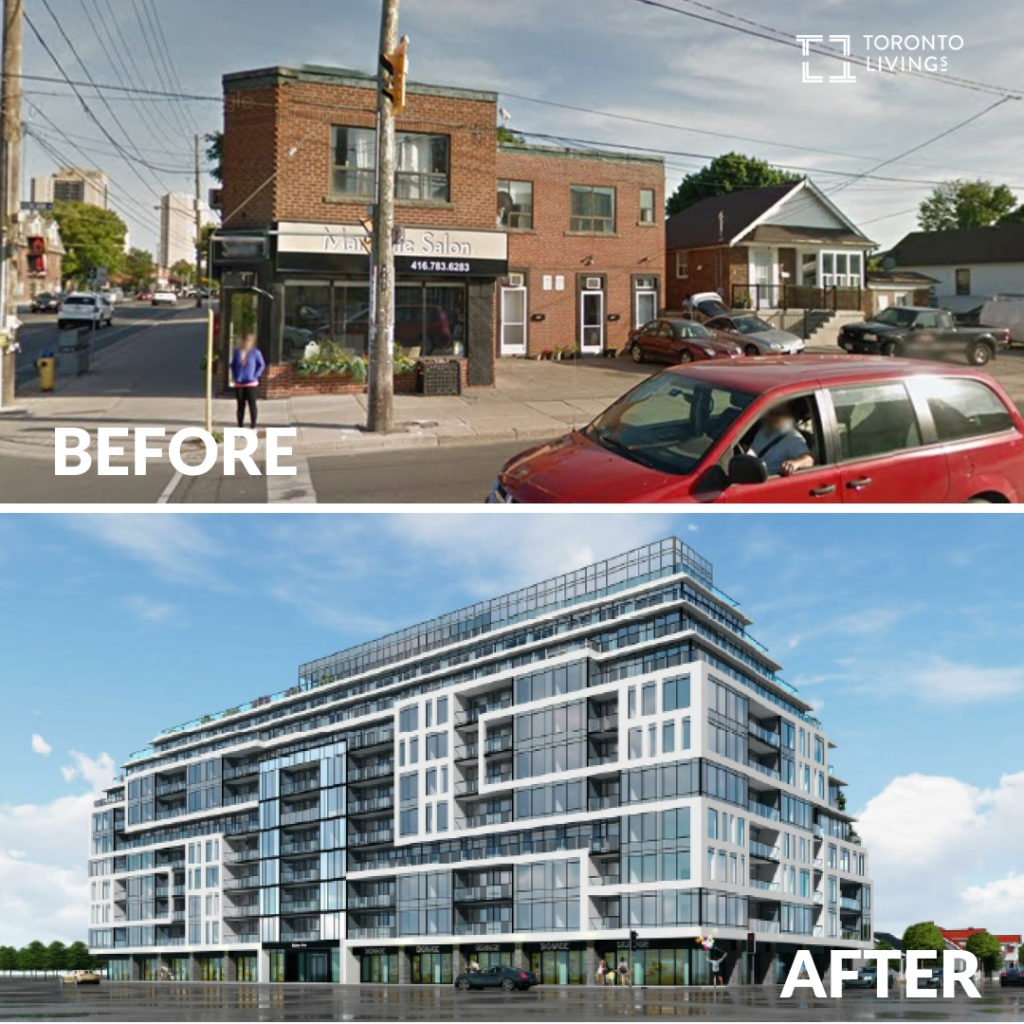 Marlee Avenue is gearing up for another condo development! An application was submitted with plans for an 11 storey development at the South West corner of Marlee and Glencairn (831 Glencairn). The application was submitted by Masseto Homes Inc and Chestnut Hill Developments (who also built The Address Of Highpark and Life Condos). Plans are calling for an 11 storey midrise, with 224 units proposed!
Who Is Building The Condo at Glencairn and Marlee?
The project is being developed by Chestnut Hill Developments and Masseto Homes Inc. The building is being designed by Kirkor Architect + Planners and the application was submitted by Weston Consulting.
What Will the Condos at 831 Glencairn Look Like?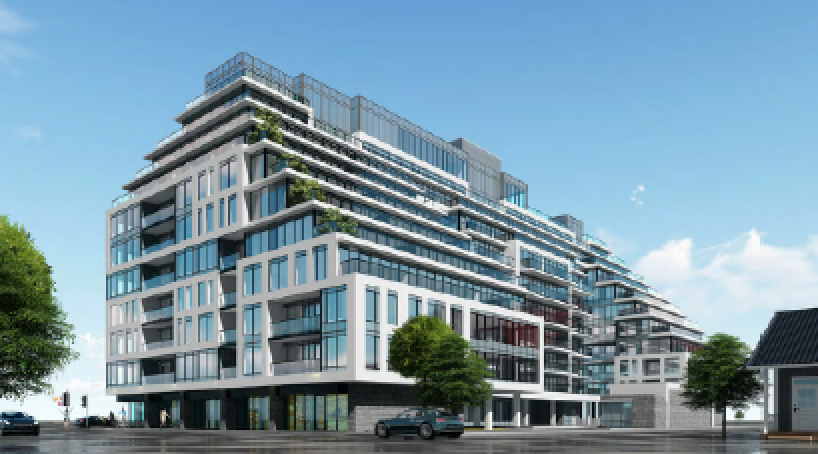 Early renderings depict an 11 storey mid-rise building, with commercial units on the main floor and residential units above. The commercial component of the building will face Marlee, with the residents accessing the entrance from Hillmount and Glencairn Ave.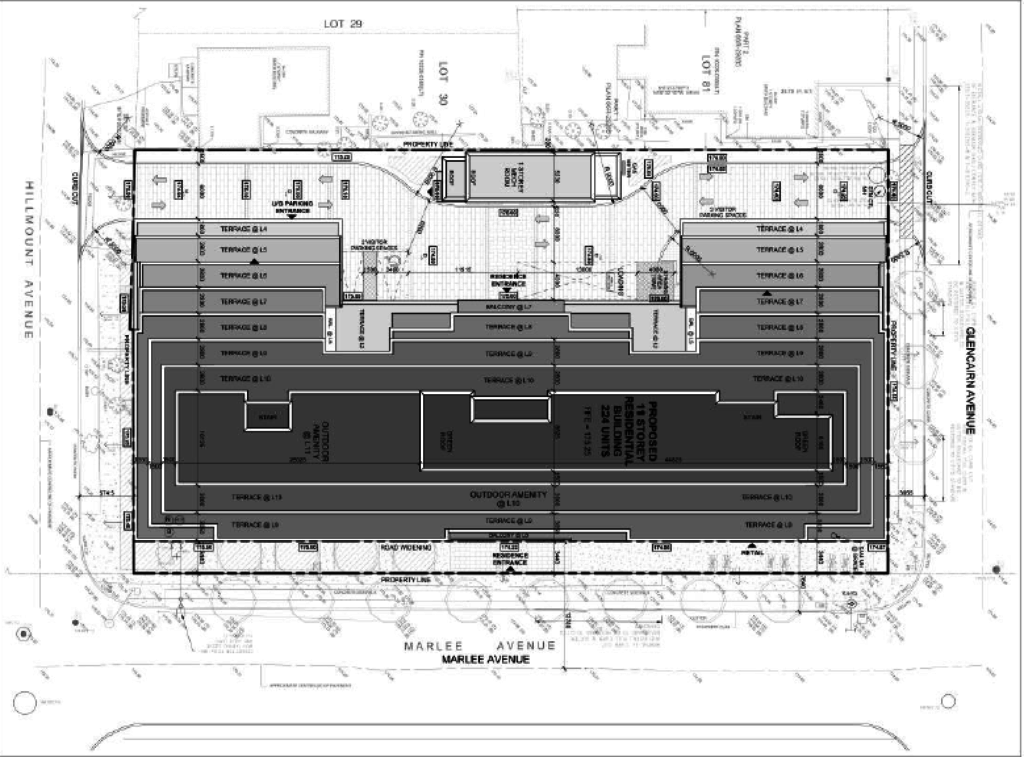 The building will have a "set-back" design and with an angular plane from the neighbouring properties to the west. Each residential floor would contain between 8 – 33 units (with fewer units on higher floors). Renderings also show floor to ceiling windows, with balconies or terraces for most units! You can view more renderings below:
[ngg_images source="galleries" container_ids="63″ display_type="photocrati-nextgen_basic_thumbnails" override_thumbnail_settings="0″ thumbnail_width="120″ thumbnail_height="90″ thumbnail_crop="1″ images_per_page="20″ number_of_columns="0″ ajax_pagination="0″ show_all_in_lightbox="0″ use_imagebrowser_effect="0″ show_slideshow_link="1″ slideshow_link_text="[Show as slideshow]" order_by="sortorder" order_direction="ASC" returns="included" maximum_entity_count="500″]
What is Currently on Site?
The future condo is being proposed on the commercial lands known as 831, 833, and 837 Glencairn Avenue and the residential addresses located at 278, 280 and 282 Hillmount Avenue.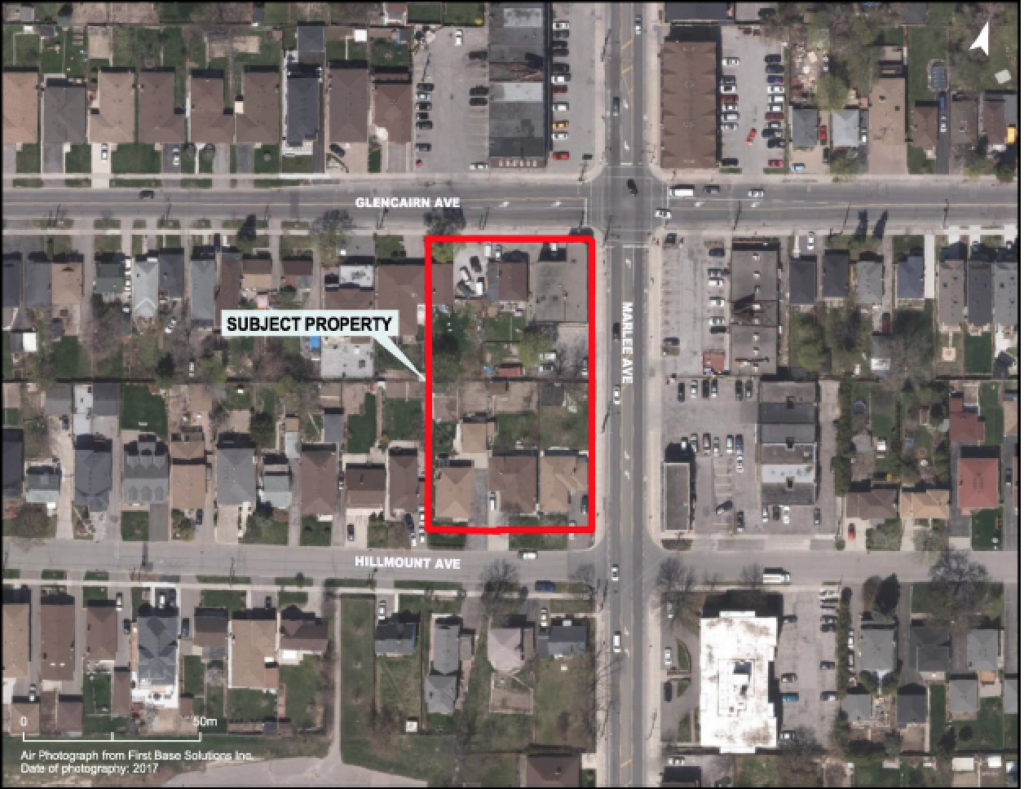 What Type of Layouts Will 831 Glencairn Ave Have?
Plans are calling for a total of 224 units, with the following unit breakdown:
167 One Bedroom units
35 Two Bedroom units
12 Three Bedroom units
The proposal also states: the site would be served by 190 parking spaces, with 168 dedicated to long-term residential use and the remaining 22 for visitors. 185 of these spaces are to be housed in a two-level underground garage, with the remaining five to be located at grade. Bicycle parking would also be provided, with 179 spaces in the underground levels and 51 at grade.
What Amenities Will the Building Have?
Details are still sparse in terms of the exact amenities the building will have, but according to the proposal, they will be located on the 11th floor.
When Will 831 Glencairn Ave Be Built?
The development proposal was submitted on June 27th 2018. The project is still in its very early stages but is one we'll be following closely… Check back often for updates!
Our Thoughts on the Project
This is the second midrise development proposal on Marlee, with the first, located on the opposite corner at 529-543 Marlee Ave. The proximity to Glencairn Subway Station makes this development very transit friendly. The area is ripe for development, but with many of the homes starting at $1.5 million and up, affordability is a big hurdle for most. A project like this is great for first time home buyers looking to live in the area. We also like the mix of 3 bedroom units, perfect for the older generation of residents looking to downsize!
Interested in Purchasing at 831 Glencairn Ave?
Fill out the form below to be kept in the know with prices, floorplans and launch dates:
[contact-form-7 id="26985″ title="Official Buyer Form"]